Name:
Myanmar
Population:
53 Million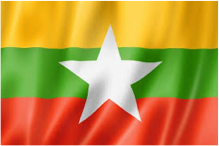 Purpose and intended audience
Landscaping of existing Digital TB Technology tools and new relevant products that may be applied across the TB Care Cascade Model, and providing insight to product developers and partners into country-specific policy, regulatory and implementation processes.
Key numbers
Year: 2017
Country TB profile
TB Cases the Health System is Identifying:
69%
Health System Efficiency Ranking:
190
Business
Ease of Doing Business Ranking:
171
Economy
Income Category:
Lower Middle Income (LMI)
Budget & Financing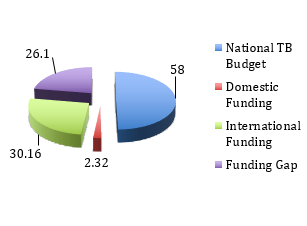 National digital TB landscape
Table 1: Digital TB Care Technology Tools currently in use
PRODUCT CATEGORY
DEVELOPER
USAGE
Diagnostics & Transport
SRI Advanced Imaging Software
Source Ray Inc
Imaging software for digital X ray
Connected Diagnostics
InSTEDD
Authomatic transmission of TB results to centralized DB
mSupply
MSUPPLY
Usedin Academic Research - TB Treatment Availability Maps
Early Care Seeking
Google Maps
Google
Usedin Academic Research - TB Treatment Availability Maps
GxAlert
Open Source
Connectivity
Triage
Siemens Helthhineers
Siemens
Medical Imaging
Sequencing
BioNumerics - Software
Applied Maths
MDR-TB  - Mycobacterium Tuberculosis  Genotype identification
QuantiFeron TB
QIAGEN
Detection of Mycobacterium Tuberculosis
Adherence
DOTsync – Smartphone App
FHI360-CAP-TB
data collection and patient tracking
99DOTS - software
99DOTS
Communication platform for TB adherence
Patient Support & Direct Benefits
Doctor Kyaw - software
KLENIK
solution for medical records, incl TB
CommCare
Dimagi
Patient registration, appointments, TB Education and counceling
Hello Sayarwon
Hello Health Group
Digital Health Care Platform
ICT, Dashboard & AI
EpiData - software
Odens, Danmark
Data entry & analysis (TB Mobile Teams) – used in scientific research of ACF 
eCompliance – App/Software
Operation ASHA
Biometric verification for health workers and patients
Stata - software
Stata Corp.
National TB Prevalence Surveys – data analysis
DHIS-2 - software
Open Source
Reporting, analysis and dissemination of health program data.
Open MRS - software
Open Source
Electronic medical record platform
Koch-6 -software
Koch Industries
MDR TB Data Collection Tool
CMIS
Koe Koe Tech
HMIS Software
Vaccination
New Drug Regiments
National TB country team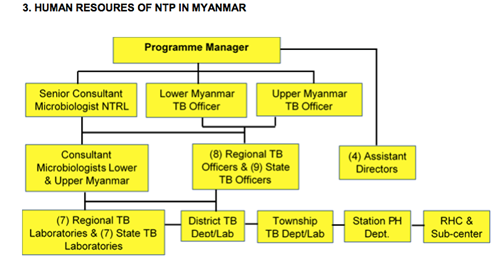 Market Entry Diagram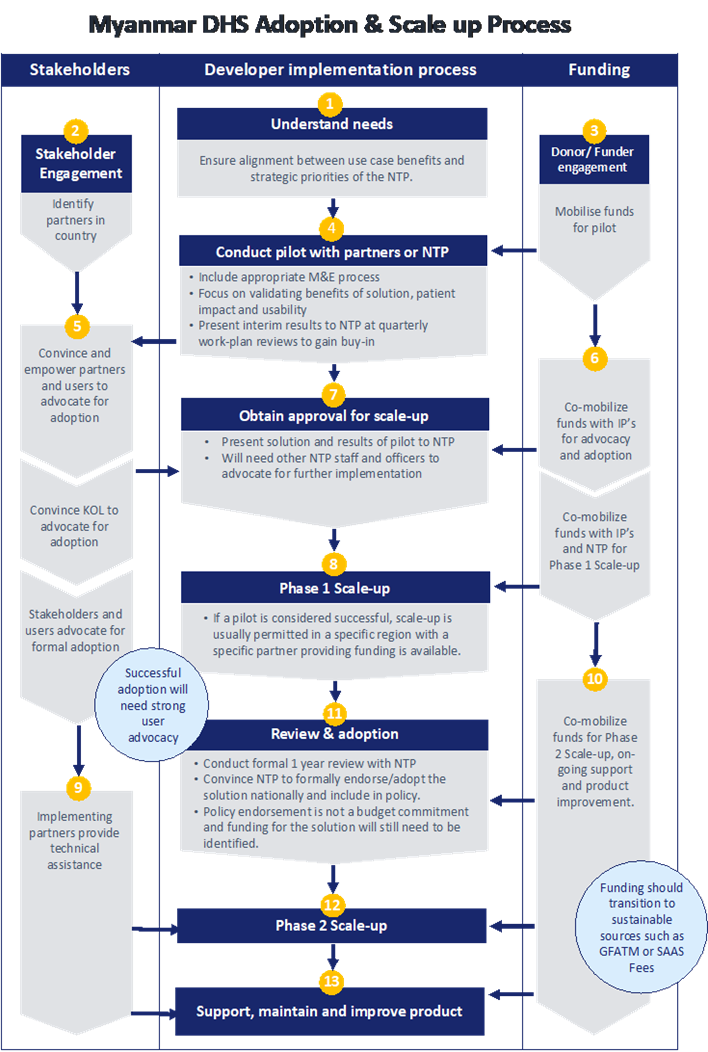 e-Health Policy & Regulation
e-Health Strategy, Legislation, Policy and Compliance
MEDICAL DEVICE REGULATION IN MYANMAR
Myanmar has not enacted a Medical Device Act, which is required to be in accordance with the ASEAN Medical Device Directive (AMDD). Nonetheless, medical devices are currently regulated by the FDA of Myanmar, which falls under the purview of the Ministry of Health and Sports. The FDA began accepting applications for registration of medical devices since 2000, by issuing import notifications and import recommendations. Today, the FDA applies the AMDD standards when examining applications. Applications for registration of medical devices have to be filed at the FDA in the name of a local representative, usually the authorized distributor of a foreign manufacturer.
MEDICAL DEVICE REGISTRATION AND APPROVAL IN MYANMAR
Generally, medical devices to be imported into Myanmar must be registered with the FDA, by obtaining an import recommendation / notification. The application dossier should include the following documents, although the FDA may stipulate additional documents and information, which it may require depending on the product:
Letter of authorization from foreign manufacturer;
Free sale or export certificate from country of origin;
Manufacturing license or GMP certificate;
ISO certificate;
Manufacturing flow chart;
Sterilization method, where applicable (i.e. for sterile products);
Certificate of analysis for product sample;
Business license / certificate of incorporation of local representative.
The FDA Myanmar is in the practice of requiring pre-submission consultations to be held, before applications for import recommendations / notifications are made. This allows the FDA to scrutinize the product and to request additional documents / information that should be furnished at the time of application.
Read more…http://www.fdamyanmar.gov.mm/?cat=17
Myanmar's 5 – year Strategic Plan on Health Information System can be accessed here:
[https://www.who.int/goe/policies/countries/mmr/en/]
PUBLIC PROCUREMENT PROCESS & TENDERS:
Important: In Myanmar bidders are still unable to access the outcome of the tendering process online  (World Bank Report)
https://www.doingbusiness.org/content/dam/doingBusiness/media/Annual-Reports/English/DB17-Chapters/DB17-Annex-Selling-to-government.pdf
https://blogs.worldbank.org/governance/myanmar-sees-early-progress-its-public-procurement-reform
Government Tenders in Myanmar [new rules]:
"Myanmar has precious little regulation governing Government tenders, but what it does have, has just been revamped and enlarged. Presidential Notification 1/2017 dated 10 April 2017 (the Notification) has reset and strengthened rules on certain types of Government procurement (primarily the government purchasing goods or services, selling assets, or leasing out land).
To which tenders does the Notification apply?
Mainly to the Government purchasing goods and services including construction services. The Notification also applies to tenders where the Government sells or leases out assets to private parties. It replaced the must shorter Notification 1/2013 with the same subject matter. The Notification does not apply to Public Private Partnerships, construction of electric power stations, telecommunication license tenders, oil and gas block tenders and mining. It states that separate rules will be created for those activities, but to date none have been published as far as we know.
Is a tender obligatory in all cases?
The Notification, though in convoluted language, requires agencies to undertake a tender for procurement of goods and services, sale of assets and leasing out in case the price exceeds 10,000,000 MMK (approximately 8,000 US$). In such cases and up to this amount the agency may collect 3 price quotes from companies without going through a tender. In excess of this amount, Government agencies must conduct a tender in case we are talking about the procurement of goods and services or the sale or the leasing out of a Government asset. It does seem clear that if the agency does initiate a tender, it must do so following the rules laid out in the Notification.
How are tenders to be publicized?
That depends on the nature and size of the tender. The following table reflects the publication obligations:"
Publication of the Bill of the Law of Public Procurement and Asset Disposal – Implications for Public Works and Public-Private Partnership (PPP Projects) - MYANMAR:
http://www.mhmjapan.com/content/files/00032790/MHM%20Yangon%20Newsletter%20Vol.1%20(November%202018).pdf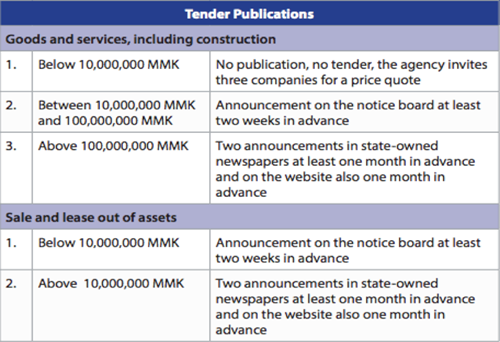 Public Procurement in Myanmar:
http://www.aidforum.org/docs/9.35_-_Chong_Chi_Nai_-_ADB_.pdf
Benchmarking PPP Procurement in Myanmar (Word Bank Group, 2017)
https://www.procurementinet.org/wp-content/uploads/2017/02/Myanmar.pdf
Operational issues & challenges
While Myanmar has – following the liberalization of the telecommunications sector – experienced substantial economic growth in ICT-based industries, opportunities through telemedicine and mobile health services have not yet sufficiently been explored. According to a developer of an m-Health application, an initial key challenges appears to be the limited understanding among the government as well as international development partners of the procurement of an intangible asset as a mobile application (e.g. costs of development, development cycle, usability considerations, pricing).
Furthermore, challenges exist due to the yet limited adoption rate of digital payment solutions (e.g. Wave Money) and the significant share of unbanked population. Opportunities in the telemedical sector / e-Health / m-Health sector exist in particular through the collaboration of the government with developers of such solutions. Hereby, the Ministry of Health and Sports and other related line ministries would be required to allow app developers a piloting and testing of the developed solutions with support of the government.
Read more…https://www.eurocham-myanmar.org/uploads/2b984-healthcare-sector-study.pdf
Market Entry
For suppliers of technology and equipment in Myanmar, local agents and distributors with specialist industry knowledge and established networks are generally the best way to build market contacts, navigate regulatory and procurement processes and identify emerging opportunities. Services firms should consider establishing a relationship with a local business partner and/or establishing a direct presence in Myanmar.
Myanmar Country Commercial Guide:
Case studies / Proof of concept
DIGITAL IMAGING TECHNOLOGY FOR MOBILE TB UNITS
In October of 2015, American Procurement Services (APSCO) won a contract funded by the United Nations Office for Project Services (UNOPS) in Myanmar for the supply of Portable Digital X-Ray Machine and accessories.  This project provided five Digital X-Ray Machines to National Tuberculosis Centers throughout Myanmar including; Yangon, Bago, Dawei, Mawlamyine and Mandalay.  
APSCO worked closely with Source Ray Inc (SRI) of New York, the manufacturing partner, to produce these digital X-Ray machines to include some unique features required by the end-users. SRI Dig-CXRs are using Advanced Imaging Software, also developed by SRI. The software has a digital panel for excellent image quality for quick detection, with low x-ray dose and fast exposures and also has capabilities for easy archive, print and send tools. APSCO was obligated to supply, deliver, install, commission and train the end-users of these equipment at five National Tuberculosis Centers in five regions.
The project was executed by APSCO in collaboration with CEA Logistics. Throughout the process, APSCO provided a bi-weekly update report to the UNOPS-Myanmar on the status of the orders and alerting UNOPS Management of any potential problem and delay and the necessary step taken to mitigate such delay in order to keep the production on schedule for delivery.   American Procurement Services and its manufacturing partner, Source Ray Inc., provided the XRay Machines with digital upgrades within 6 weeks to Yangon, Myanmar's capital. 
CEA Project Logistics Myanmar delivered, installed and set up five portable digital x-ray machines for the National Tuberculosis Program. The digital x-ray units have been (and still are) used at their respective centers and also as mobile units being powered by backup generators. The program has enabled the Ministry of Health reduce the number of new TB cases nationwide and benefit many of the country's population.
CEA provided:
Customs Clearance of Airfreight – Myanmar
Transportation Airport – Yangon Warehouse
Transportation to the Four Regions of Mandalay, Bago, Mawlamyine and Dawei
Installation and Set-up of Five Machines
Training of Radiographers and Doctors on Machines.
Implementation:
In early December 2015, IOM's TB Active Case Finding Team (known as MORE HEALTHY - Migrant Out-Reach with Health Education and Access to Lab diagnosis for TB and HIV in Yangon) conducted a mobile clinic session on the outskirts of Yangon where also many migrants live. Patients listened to health education from IOM's outreach workers and were then seen by an IOM doctor together with local health staff of the Ministry of Health, and had a Digital X-Ray done on the spot.
Later, the National Tuberculosis Program implemented an Active Case Finding project in 2016 with support from 3MDG and funds made available by DFID. Mobile team operations carried out active case finding and have reached poor, underserved and marginalized communities living in slums and remote areas, industrial zones, mining areas, prisons and migrant construction sites. During the first six months of 2016, 109 mobile visits were carried out in hard-to-reach locations and 'peri-urban' locations, which lie between urban and rural areas. Teams also visited prisons, worksites and mines. The primary screening diagnostic method used by mobile teams to detect TB was chest X-ray by SRI Dig-CXR machine and Software package. If TB was suspected based on the X-ray, patients had been referred to the township health department for a sputum examination as well as GeneXpert test screening for MDR-TB. It took between 5-10 seconds to find out the result from the CXR.
The above projects confirmed the feasibility and acceptability of ACF by mobile teams in hard-to-reach contexts, especially when equipped with portable, digital CXR machines that provided immediate results. However, the follow-up process of sputum examination has created a significant barrier to confirmation of the diagnosis. In order to optimize the ACF through mobile team activity, future ACF activities were needed to be strengthened one stop service including molecular diagnostics or provision of sputum cups to all presumptive TB cases prior to CXR and testing if CXR suggestive of TB.
WHO Relevant resource documents